The award-winning Mobile World Live TV will return in 2013 to broadcast live from Mobile World Congress via a dedicated channel across Catalonia, reaching over 100 attendee hotels and 19,000 bedrooms. Mobile World Live TV will also be available to more than 70,000 event attendees throughout the event via numerous monitors strategically located within the Fira Gran Via venue. In addition, the channel will be streamed live to our selection of apps and to the Mobile World Live website.
What's On?
Programming on Mobile World Live TV will feature live interviews with C-Level executives and industry luminaries, news bulletins, panel discussions on hot topics with industry specialists, product launches and on-the-ground reporting from all major press events.
Our Mobile World Live keynote programmes will also return in 2013. In 2012 Mobile World Live TV broadcast exclusive keynotes from Ericsson, Ford and Google.
Click the image below to watch highlights from Mobile World Congress 2012.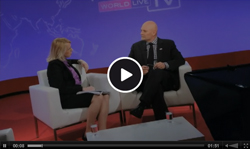 Check out 2012 Mobile World Live TV broadcasts here.
Get Involved
Advertising opportunities for Mobile World Live TV are still available. We also welcome editorial pitches. We are open to receiving interview requests, information about your product launches or device demos, and submissions to be included on our wide-ranging panel discussion sessions. Contact the MWL editorial team today to get involved.  Click here to learn more about advertising on Mobile World Live.
About Mobile World Live TV
Mobile World Live TV is brought to you by Mobile World Live, an online B2B service dedicated to providing the mobile industry with daily news coverage and analysis of the biggest global market developments, complemented by weekly video content offering exclusive interview access to the highest-profile C-Level executives in our industry, as well as special features that analyse mobile's most topical issues.
Launched in 2010 and now visited by up to 200,000 unique monthly users, www.mobileworldlive.com has established itself as the industry's most respected online portal for the mobile communications industry.