Introducing our New, Larger Venue for MWC 2013 and Beyond
We are pleased to introduce you to Fira Gran Via, the exciting, new home of Mobile World Congress. Located just down the road from our old location, Fira Gran Via is a large state-of-the-art event space which will allow the show to grow and expand in the years to come.

Virtual Fly-Thru – 'Walk' through Fira Gran Via and take a look around to become comfortable with our new surroundings
'Where Is It?' Feature – Get to know where standard event features such as App Planet, the VIP Networking Lounge, the Media Centre, and more can be found
Transportation and Logistics – Learn the transportation options for the new venue, and where each type option will be located
Travel Times – Discover the estimated travel times from hall to hall, so you can plan your schedule and not miss important events
Why is Fira Gran Via better?
Our new home has features, advantages and benefits that will make Mobile World Congress better than ever been. To see details, click on our new venue infographic below:
Location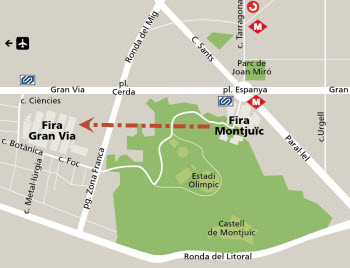 The physical address of Fira Gran Via is:
Av. Joan Carles I, 64
08908 L'Hospitalet de Llobregat, Barcelona
Based on where your hotel is located, your travel times to the venue may stay the same or even decrease over previous years. Hotels near Port Olimpic actually have quicker travel times.
Layout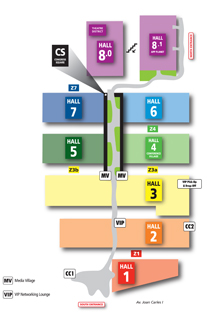 Fira Gran Via is comprised of eight exhibition halls under a single roof. The layout begins with Hall 1, located at the South Entrance, and continues to Hall 8 and the North Entrance. In the heart of Fira Gran Via lies Congress Square (shown in black on the map below), which is sure to be a great meeting and gathering point.
Halls 1 through 7 are single-level spaces. But thanks to a dual-level walkway connecting the halls, complete with moving sidewalks, escalators and elevators, there's plenty of space for our 70,000 attendees to move along quickly. Another plus is that Fira Gran Via is very friendly for those attendees with mobility issues.
The only multi-level hall is Hall 8, which will host App Planet, mPowered Brands, our Ministerial Programme, Exhibition space (Hall 8.1), and theatre events such as our Forum Series, App Developer Conferences (ADCs), mPowered Brands Theatres and Partner Events (Hall 8.0).
Halls 1, 2 and 3 contain Hospitality Suite and Meeting Room space. Halls 3, 5, 6, 7, 8.1, and Congress Square will contain Exhibition stands. Hall 4 is our Conference Village. As the Hall 4 Conference Village is dedicated exclusively to the Conference Programme, access to this hall is restricted to Silver, Gold and Platinum Pass Holders
Size
Last but not least, our new home is larger and will give Mobile World Congress the opportunity to continue to grow and expand in the years to come. Fira Gran Via boasts 240,000 square meters of space, under one roof, meaning Fira Gran Via is both 50% larger than our previous location, and will be unaffected by February's changing weather. We'll all enjoy a bit more breathing space in the years to come.