While the new NFC Experience will provide many benefits to attendees, one of the most convenient will be to allow you to use your NFC-enabled device to gain simpler access to the event using our NFC Badge.
Having an NFC Badge will allow you to pass through dedicated NFC Entrance Lanes in the North and South Entrances at Fira Gran Via without having to repeatedly show Photo ID (once you have collected your printed badge, and we have validated your NFC Badge against Photo ID).
The NFC Badge app is compatible with supported NFC-capable Android 4.0+, Windows Phone 8 and BlackBerry 7.1 handsets.  A list of compatible devices is constantly being updated here.
Please note the NFC Badge app is a different app from the MWC Event App.
To see the NFC Badge in action, please click the image below.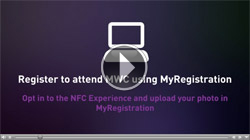 3 Simple steps to using the NFC Badge at MWC
Step 1: Download the NFC Badge to your NFC-enabled handset
In order to be able to use the NFC Badge at Mobile World Congress, you must have an NFC enabled handset on any of the Operating System stated below
Click here to download the Android 4.0+ version in Google Play
Click here to download the Windows Phone 8 version in Windows Phone
Click here to download the BlackBerry 7.1 version in BlackBerry App World
Step 2: Login to the NFC Badge app and upload your photo
To login to your NFC Badge, you will need your username (email) and password you used to create your registration account. Should you have forgotten or not know your password, click the "Forgot Password?" button on the login page and a reminder will be sent to you by email. Only fully registered and confirmed attendees for Mobile World Congress will be able to login.
Upload a passport quality photograph of yourself.
Your NFC Badge will show you are at Amber Status (one step away from using your NFC Badge).
Step 3: Collect your event badge at Mobile World Congress and have your NFC Badge photo validated
When you arrive at Mobile World Congress you must collect your physical badge from any of our Badge Collection points (refer to your Final Confirmation for instructions on where you can collect). At the same time as issuing you with your badge, we will validate your NFC Badge Photo.
Refresh the app on your handset and your Status will change to Green. You are now free to use any of the NFC Entrance Lanes at the South and North Entrance at the event and will not need to repeatedly show your Photo-ID to enter Mobile World Congress.
Please note, the NFC Badge does not replace your printed badge which must be worn at all times while you are at Congress.
Want to Know More?
There are more details on the NFC Badge on our Registration FAQ page.